Location:
The meeting will take place at the Technical University of Denmark (DTU) located in Kongens Lyngby (https://en.wikipedia.org/wiki/Kongens_Lyngby), a suburban town 20 minutes by car or train north of Copenhagen.
Venue:
Meeting Room 1 Building 101A
DTU Lyngby campus
Anker Engelunds Vej 1
2800 Kgs. Lyngby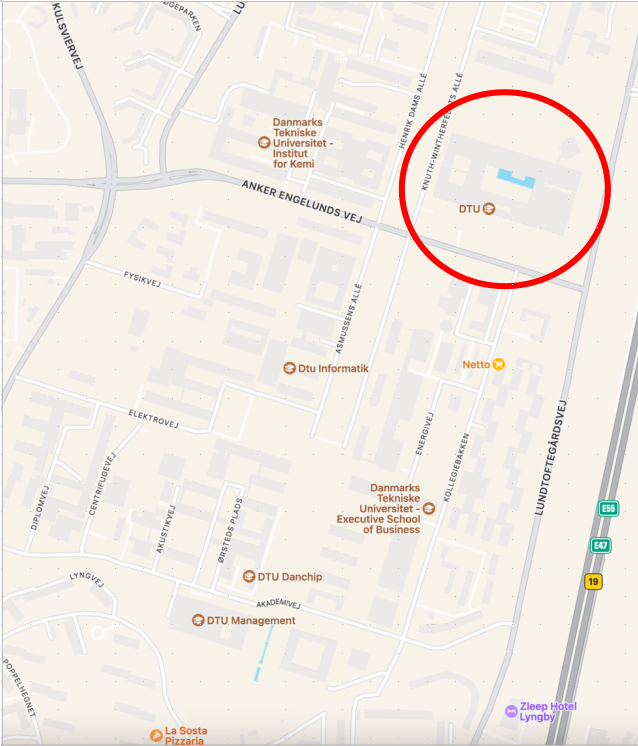 Getting to DTU:
DTU is easily accessible by car through highway E47 from the Copenhagen Airport (Kastrup – CPH) or through S-train lines A or E from Copenhagen central station (København H) to Kongens Lyngby. From the airport, metro line M2 will stop at Nørreport station where the passengers can switch to S-train A or E to get to Kongens Lyngby. Once you arrive at Kongens Lyngby, the DTU campus is only 10-15 minutes on foot or you can take Bus 300S.
For scheduling your trip using public transportation, you can use the Journey Planner: https://www.rejseplanen.dk/webapp/?language=en_EN#!P|TP!histId|0!histKey|H215424
where you can use DTU (Anker Engelunds Vej) as the final destination for your schedule

Lodging:
There are many options for hotels in Copenhagen. The hotels closest to the venue are located in Kongens Lyngby. They are:
Zleep Hotel Lyngby https://www.zleep.com/en/hotel/lyngby/
Scandic Eremitage https://www.scandichotels.com/hotels/denmark/copenhagen/scandic-eremitage?utm_campaign=gmb&utm_source=google&utm_medium=organic&utm_content=eremitage&_ga=2.31108155.548500072.1668000979-1180521165.1668000979